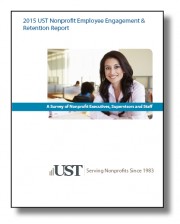 The Unemployment Services Trust has added a new report to its research collection, aimed at uncovering the truth about what truly drives an employee's day-to-day happiness and which factors are pushing employees out the door.
Santa Barbara, CA, September 1, 2015 (Newswire.com) - The Unemployment Services Trust (UST) reveals some of the most impactful strategies nonprofit employers are currently using in its latest report "2015 UST Nonprofit Employee Engagement and Retention Report."
"Now the third largest employer in the U.S. and growing, the nonprofit sector is crucial to the nation's workforce," explains the report. "The study highlights both employment trends within the nonprofit sector and correlations between employee engagement and turnover with various factors such as compensation, communication, culture, and hiring practices."
By surveying more than 1,300 nonprofit executives, supervisors and staff that work in the nonprofit sector, UST is able to dissect the inner-workings of both organizations with highly motivated employees and those with high turnover — acting as a how-to guide for nonprofits looking to revamp their current (or lack thereof) engagement and retention methods.
The report, now available for free download, also helps answer:
What factors are contributing to turnover/retention
What drives employee engagement or non-engagement
Which new approaches you can apply at your nonprofit
Download your complimentary copy today at: http://ww2.chooseust.org/lp/pr/nonprofit-engagement-report.html
About UST: The Unemployment Services Trust is dedicated to educating 501(c)(3)s about reducing HR and unemployment liability and helping them exercise their federal right to opt out of the unemployment tax system. UST helps nonprofits manage unemployment claims to successfully save thousands of dollars annually. Learn more at www.ChooseUST.org.
Share: